Happy new month!!!
After the long hiatus from my blog….I'M back <ya heard me>
Sorry it took this long and I've missed y'all so much
This is my best month…guess why? My bday is coming up 🙂 So one time for October babies!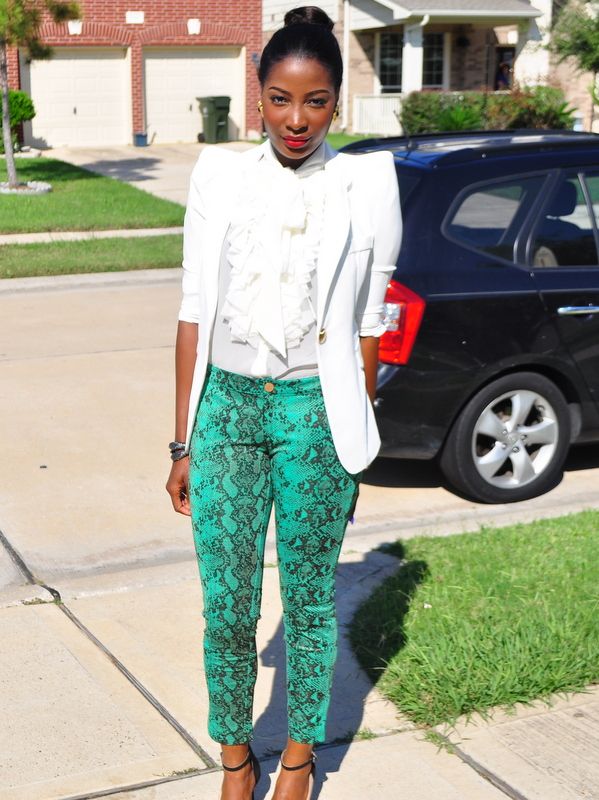 My Country (Nigeria) is celebrating their independence today (woop woop)
So you can guess how my weekend went lol, my people sure know how to party.
For now, its back to school work…I have 3 exams this week and I'm praying seriously for my brain
Blazer:ebay (similar HERE), Shirt & shoes : Zara Pants: lulus (HERE) ring: gift , MK watch, thrifted earrings
I had to represent our colors (green & white) its just me simply showing a part of my patriotism smh; I love this pants, they are so comfortable and I wish i got them in a size small because they are a little loose for me, so if you order it, go a size smaller because the material is very forgiving
After thinking I had bad-luck at winning give aways (God knows how many I've entered), I won my first giveaway from Alamode's blog so S/O to her for hooking me up with the bracelets 🙂
I'm taking a break from my extensions until my birthday *smiles* so I've been trying to rock/ experiment different styles. I will still be answering questions regarding my previous hair and post it here.
On the bright side, I have more posts coming up and videos (no jokes this time) my eyebrow tutorial video will be up next so make sure you check back.
S/o to freda flow for the wonderful pictures
Lots and lots of love from me to you!!!!
Have a wonderful day